University of Manitoba President and Vice-Chancellor Dr. David Barnard joined Premier Greg Selinger, Mayor Sam Katz, Bill Watchorn, Chair, Board of Directors of the Winnipeg Football Club, CFL Commissioner, Mark Cohon, and David Asper, Executive Chairman of Creswin Properties Inc. at the site of the new home field of the CFL's Winnipeg Blue Bombers and the CIS' University of Manitoba Bisons for the official sod turning of the new stadium at the U of M.
The new, state-of-the art facility is scheduled to open for the start of the 2012 CFL season and is located at the University of Manitoba at the corner of Chancellor Matheson Road and University Crescent.
"The entire project continues to be an important and exciting development at the University of Manitoba, one that will benefit our own students and staff as well as the larger community," said University of Manitoba president and vice-chancellor David Barnard. "As the sod is turned to begin construction of the new stadium, I think of what a thrill it will be for all of us to attend the opening kick-offs of the first Bison and Bomber games here in 2012. Beyond those much-anticipated milestones, we can look forward to many years of the University of Manitoba being able to offer yet another wonderful recreational and athletic resource to the community."
The 33,000 seat world-class stadium, expandable to 40,000 for Grey Cups, will feature an approximately 25 foot deep, in ground bowl with 20,000 seats in the lower bowl area and overhead weather protection for 80% of its fans. It will hold 40 private suites, top quality concessions, state-of-the-art media facilities and modern team offices, locker rooms and training facilities. The stadium will not only be the new home of the Canadian Football League's Winnipeg Blue Bombers, but also play host to the CIS' University of Manitoba Bisons football program.
"This is an exciting day for Bomber fans, for Bisons fans, indeed for all sports fans," Premier Greg Selinger said. "It's a perfect example of what can happen when partners work together to make something happen."
The new stadium, which has been promoted by Creswin for over three years, will be an elite facility with unparalleled sightlines and first-class amenities.
"As our organization embarks on celebrating the rich history of 80 years of Blue Bomber football, it is truly fitting that the team is now setting the stage with a new stadium to continue to provide exciting CFL football for its fans for many years to come," said Bill Watchorn. "This is a great day for this organization and we're thrilled to get this started."
"This is another critical step along the way and it's great to be finally getting into the ground. We have invested over three years of sustained effort to bring this project to life and we have had the generous support of thousands of fans throughout the process," said David Asper. "It's a tribute to them and we look forward to bringing the vision to reality, starting today."
Not only will the new facility boast modern amenities, but it will also recognize the Winnipeg Football Club's rich history by being home to a permanent Blue Bomber Hall of Fame and Exhibition, a Walk of Fame, interactive fan and player art installations and exterior commemoratives displaying Bomber and Bison championships.
"I know Winnipeggers are getting excited for another season of cheering on our Blue Bombers and with today's ground breaking, we all have something else to cheer about," said Mayor Sam Katz. "This new stadium will usher the Bombers into a new era as they celebrate 80 years of providing Winnipeggers with many memorable moments. I want to congratulate all the stakeholders again today for making this ground breaking a reality and look forward to seeing everyone here at the home opener in 2012."
"On behalf of our Board of Governors, our teams and most of all our fans, I want to thank the province, the city and especially David Asper, for making today possible," said Mark Cohon, Commissioner of the Canadian Football League. "Our deepest congratulations of course go to the Bombers and their fans, who are now proudly marching into the future at the same time they're celebrating eighty years of tremendous history. While we know this facility will serve the community in so many ways, for us this is a special day for our league and the millions of Canadians who love it."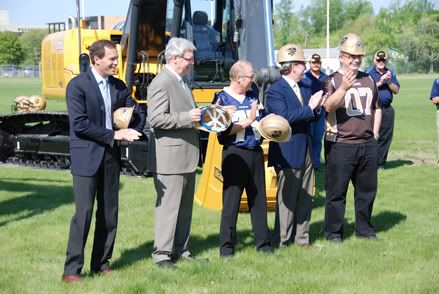 Left to right: CFL Commissioner; Premier Greg Selinger; Mayor Sam Katz; Executive Chairman of Creswin Properties Inc. David Asper; University of Manitoba President and Vice-Chancellor Dr. David Barnard. Photo by Chris Reid.