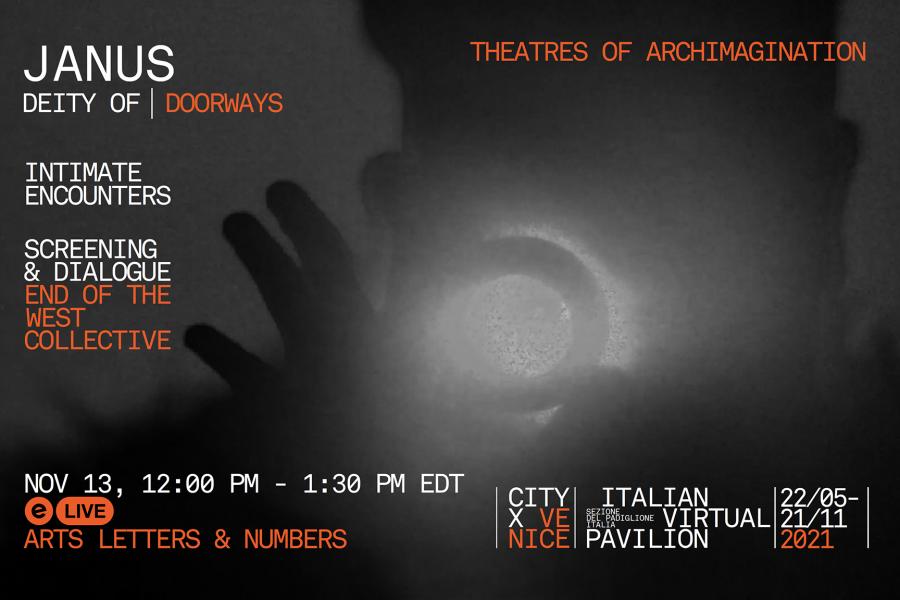 Janus
End of the West Collective
What if myth were not a lie, but a story truer than truth?
This preview screening and conversation with artists takes us backstage into the creative process of devising a new dramatic work with an interdisciplinary team, including an architect, dancer, lighting designer and physical theatre director and choreographer.
The story of Janus dramatizes an encounter with the powerful yet limited deity of doorways. Destiny brings this god and human together, though they remain obscured from each other by a mortal veil. Making an opening for them to truly see each other will require a magic outside of either of their powers of creation. This single story is told through different cultural expressions and developed through three different personal lenses, individual histories, and arts practices. Bharatanatyam, Indigenous art, modern theatre, and spectator participation coalesce to become creatively reborn in a theatrical womb-like cave – a specially designed theatre for one. Puppets, masked dancers, film, sound, shadow and light heighten the intimacy of encounter. Within this sacred space Destiny is questioned and spectators are challenged to experience the embodied reality of myth.
Conversation moderated by Lisa Landrum. This event is Act 5 of 5 acts toward renewing architectural imaginaries – integrating sonic, mythic, poetic, heuristic and dramatic arts. It is part of the Theatres of ArchImagination contribution to SunShip: The Arc That Makes The Flood Possible, as part of the Arts Letters & Numbers exhibition in the CITYX Venice Italian Virtual Pavilion of the 17th Venice Architecture Biennale.
___
End of the West Collective is a collaboration of neighbors in Winnipeg's West End who met around a backyard fire pit during the COVID pandemic in summer 2020. The collective includes a theatre director, lighting designer, classical Indian dancer, and architect.
Jacqueline Loewen is a theatre maker and founding member of the multiple Canadian Comedy Award nominated physical sketch group Hot Thespian Action. She has worked extensively as a fight choreographer and movement coach on every stage in Winnipeg, as well as at Bard on the Beach (VAN) CanStage (TO), and Kansas State University (KS), and has won two Winnipeg Theatre Awards for outstanding choreography. She has adapted and directed site specific operas for Manitoba Underground Opera, Little Opera Company, and Flipside Opera, and created several experimental physical theatre pieces, notably La Belle Laide (nominated for Harry S. Rintoul award), and Tree in the Closest Distance (residency at The Sawdust Collector, Vancouver), and is directing The Telephone/La Voix Humaine, the first show of Manitoba Opera's 2021-22 season.
Scott Henderson is a Winnipeg-based Lighting Designer who has worked in theatres across Canada including the Stratford and Shaw Festivals. In Winnipeg, Scott has designed over 60 Productions for the Manitoba Theatre Centre, 48 for Prairie Theatre Exchange as well as numerous productions for Manitoba Opera, Manitoba Theatre for Young People and most other theatre and dance companies in Winnipeg. Scott is a graduate of Ryerson Theatre School (1990) and has been a member of the Associated Designers of Canada since 1996.
Avinash (Nash) Muralidharan Pillai Saralakumari started his training in Bharatanatyam at the age of ten. He has won many prizes in the field and expanded his horizon to other Indian dance forms such as Kuchipudi and Kathakali. The most exciting part for Nash, when it comes to classical dances, is the ability to tell a story through movement. Indian classical dances provide the best opportunity to learn that correlation through its vast vocabulary of hand gestures, facial expression and body movement.
David Thomas is an Anishinaabe architectural designer and member of Peguis First Nation, currently working with the Treaty One Development Corporation on the former Kapyong Barracks master plan. He has served as designer and consultant for the Indigenous People's Garden at Assiniboine Park in Winnipeg, part of Canada's Diversity Garden, and several other Indigenous architecture projects throughout Canada, including creative work with the Canadian Museum of Human Rights. David has presented his work in Aotearoa (New Zealand) and the UK and was part of UNCEDED, Canada's entry of Indigenous Architects for the 2018 Venice Architecture Biennale.
__
Created in partnership with Theatre Projects Manitoba, End of the West Collective will premiere Janus as "In Time" in Winnipeg from December 2nd to 12th 2021.
Theatre Projects Manitoba and End of the West gratefully acknowledge support from the Canada Council for the Arts, Manitoba Arts Council, Winnipeg Arts Council, and Manitoba 150.