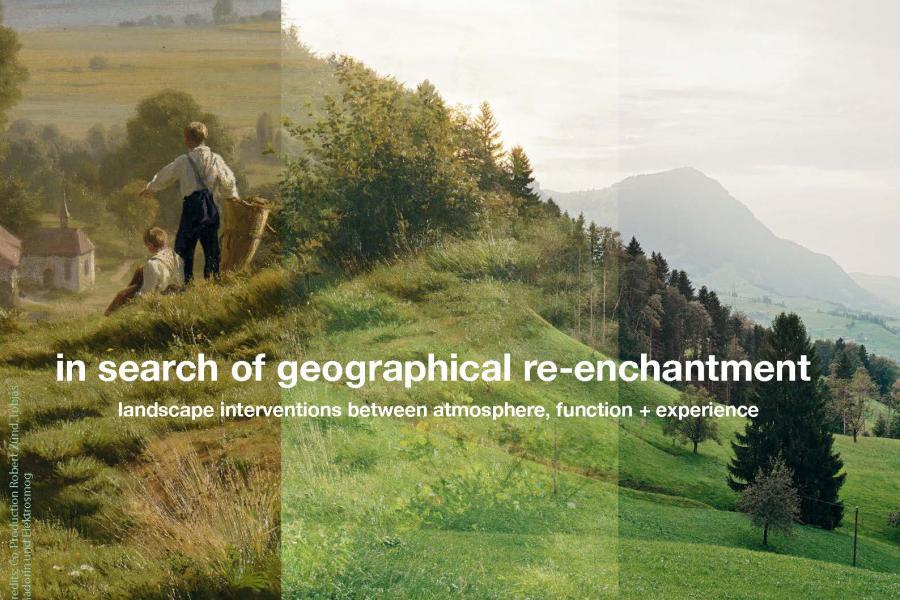 In Search of Geographical Re-enchantment
Both a Swiss and global phenomena, landscapes today are increasingly regarded as a resource serving a large number of lobbies such as agriculture, speculation, infrastructure, ecology, or recreation, each with a voice of its own except one – the landscape itself. Particularly on the urban periphery landscape fragments are rapidly transforming into well-functioning yet sterile places, densely woven patchworks of unnatural constructed landscape imagery and semi-natural nature. Here terms such as atmosphere, landscape, nature, identity or sense of place put us as designers to the test. These are contemporary landscape typologies full of contradiction, paradox, friction and conflict, no longer able to be blended out but demanding not only to be integrated into our designs, but to become an essential part of their expression.
The projects shown are designed by Robin Winogrond both in her own office, as well as, as co-founder and partner of Studio Vulkan Landscape Architecture. On odd sites, often on the challenging periphery of cities, they explore the potential of such seemingly faceless landscapes to offer us powerful, moving, site specific experiences, to imbue them with what British Social Geographer Alistair Bonnett describes as geographical re-enchantment of our contemporary environment. Weaving natural, urban, ecological, social and atmospheric criterien together the projects search to requalify residual landscape space through innovative design? Natural phenomenon of sky, water, urban forestry and urban wilderness are set into play on the urban fringe to create new responsive typologies of landscape and architecture.
About Robin Winogrond
Robin Winogrond, landscape architect and urban designer, is co-founder of Studio Vulkan Landscape Architecture, Zurich, Switzerland and was partner from 2014-2020. While continuing the collaboration with Studio Vulkan she is working independently and internationally on projects, juries, lecturing, teaching and publishing.
The design approach of Robin Winogrond reflects her interdisciplinary education in landscape architecture, urban design, architecture and art, and with it the intention to understand our built environment in various scales and from a variety of perspectives. In Switzerland as well as abroad she partakes regularly in professional juries, panels, lectures, publishing and teaching. Her design approach focuses, among other things, on the perception of atmospheres, complex identities and social spaces of the contemporary urban and peripheral landscape. She holds a Bachelors of Arts in Urban Design, a Master of Landscape Architecture and was a visiting resident at the Academy of Fine Arts in Stuttgart, Germany.
Winogrond works on a wide variety of scales and themes, with a focus on built works as well as large scale open space and urban design schemes, and site-specific installations. The work seeks to understand and interpret the diverse demands, contradictions and countervailing expectations of the contemporary landscape, using this productive tension as a driver for developing innovative and experimental design strategies that interpret the conditions of the site and its users. Design is understood, among other things, as utilizing the moderation of these contradictions to formulate new design approaches and solutions, develop strategic and experimental design languages which make visible and interpret these conditions into clear, powerful experiences of place and space.