Career Month
Join us for a series of career and employment workshops and special events throughout November. The kick off starts November 2.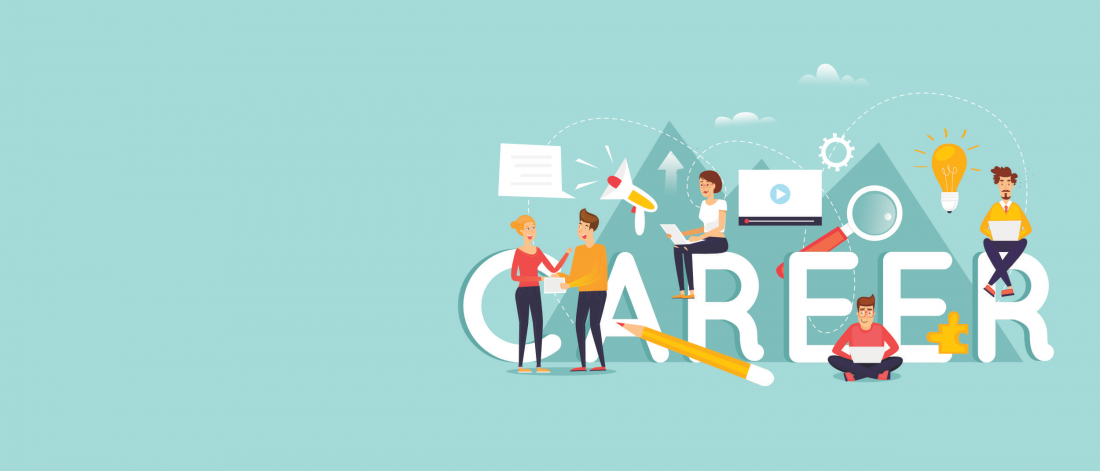 Career Month
November 2 - 30, 2020
Career and Workforce Development Month has something for everyone! Whether you have a clear idea for your career direction or you're still trying to figure things out, Career and Workforce Development Month events are a great way to make connections to keep you moving forward.  First year students, 4th year students, alumni and everyone in between can benefit from attending one or more of the 22+ virtual events including the Career Café, Volunteer Fair, and Arts Career Round Table.
November is a great opportunity to discover career pathways, learn about an academic program, meet with industry professionals and make professional connections! With a little planning you can give your career journey a boost and pave the way to multiple opportunities. 
Check out the events and workshops happening in the schedule below. Use the links to register and learn more. You can also visit careerCONNECT for upcoming event details and to register.
On this page:
NOVEMBER 2 - 30, 2020 Career Month Schedule
Career Myths
A career is like an opinion – everyone has one. But when it comes to career opinions, it is worthwhile to ensure you are carefully separating career fact from career fiction. We at Career Services have heard a few career myths in our day, and we want to debunk them for you so your next career steps are based on the best information available. Check back regularly and via @UMStudent for more debunked myths throughout the month.
Myth: I should visit Career Services to help me find a job after graduation
Fact: Career Services helps all University of Manitoba students with career decision making, ongoing career planning and job search throughout their degree. We can offer advice about ways to identify and explore career ideas, build skills through volunteer or extra-curricular experience, and strategies to find meaningful and related employment to help you reach your career and academic goals.
Take Action! Start your career planning early in your degree to explore your interests and build marketable skills! Use our online resources or book an appointment with a Career Consultant by emailing cs.receptionist@umanitoba.ca or calling (204) 474-9456
Myth: The only reason to network is to look for a job
Fact: Networking is a great way to gather career information, get advice from professionals and learn about an industry or specific occupation.
Take Action! Register for the Career Mentor Program for a one hour informational interview by emailing cmp@umanitoba.ca or use UM Café to chat with people from all over the globe about industry-specific knowledge.
Myth: The only way to find jobs is to check job postings on the Internet
Fact: In Canada, overall 60% of employers use personal contacts, referrals and informal networks to recruit candidates. This recruitment strategy is used just as frequently as posting positions on company websites. (Government of Manitoba, 2019).
Myth: If I want to work in health care, I need to be a doctor or nurse
Fact: There are 40,000 occupations in Canada, including over 170 occupations in healthcare such as occupational therapist, respiratory therapist, epidemiologist, and physician assistant.
Take Action! Meet with a Career Consultant to help you to explore various occupations. Email cs.receptionist@umanitoba.ca or call (204) 474-9456 to book an appointment!
Myths: As an Arts grad, my employment options will be limited
Fact: 55% of professionals with Bachelor's degrees over 30 countries have a background in social sciences or humanities and work across all industries, including business, healthcare and government (British Council, 2015).
Myth: Paid experience is the only experience employers value
Fact: Employers value transferable skills that you develop through a variety of experiences both paid and unpaid. Volunteering allows you to build many marketable skills that employers look for and helps you learn about yourself and your work preferences.
Myth: Career fairs are only for graduates looking for full-time work
Fact: All students should attend fairs early in their studies to discover the skills and attributes employers are looking for. The sooner you understand what employers are looking for, the more time you have to build relevant skills and knowledge!
Take Action! Visit the annual January Career Fair which hosts close to 100 employers on January 21st, 2020.
Myth: A PhD only qualifies you to work in academia
Fact: 1 in 5 PhDs are employed as full-time university professors. Most PhDs are employed outside of academia, with the majority working in government, industry or not-for profit organizations (Conference Board of Canada, 2015).
Take Action! Meet with a Career Consultant to learn about occupations outside of academia relevant to your field. Email cs.receptionist@umanitoba.ca or call (204) 474-9456 to book an appointment.
Myth: A career is a dream job. It is a moment in time you are working towards.
Fact: Career development is the lifelong process of managing learning, work, leisure, and transitions in order to move toward a personally determined and evolving preferred future. It encompasses the development of the whole person and is more than just deciding on a major or a job. It really is a lifelong process, meaning that throughout life a person changes, situations change, and every individual must continually make career and life decisions" (CERIC, 2012).
Take Action! Your career is already happening — take charge by meeting with a Career Consultant to discuss what's next for you! To book an appointment email cs.receptionist@umanitoba.ca or call (204) 474-9456.
Career Consultant Tips
The Career Services team is full of useful advice that can help you envision your future and take charge of your career. We've gathered favourite tips from our staff members which you can use right now. And remember, if you want to meet the real, non-bitmoji experts behind this advice, you can meet with us online or by phone for tailored tips for your own career by emailing cs.receptionist@umanitoba.ca or calling 204-474-9456.