Professional development programs
Our summer programs provide educational and professional development opportunities for university students, choral conductors and music educators.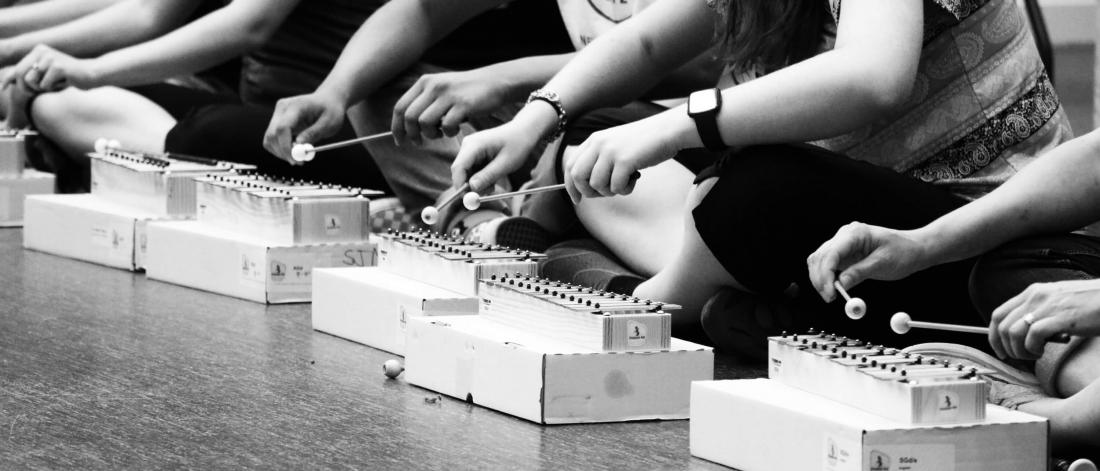 On this page:
New online offering for summer 2021 - Kodály-inspired pedagogy for skill development in EY and choral contexts
Kodály-Inspired Pedagogy for Skill Development in EY and Choral Contexts (MUSC 3360
New for 2021, Kodaly-Inspired Pedagogy for Skill Development in Elementary and Choral Contexts (MUSC 3360, 3 credit hours) will explore strategies and principles for helping students to develop their musicianship, inner hearing, and music literacy skills in a way that also increases their understanding of music. Dealing specifically with elementary, general music, and choral contexts for online, blended, and in-person learning, the course will also provide the opportunity for participants to customize long-range plans for skill development for their unique teaching context.
This course is appropriate for both students and professional music educators who are looking to update their skills in a changing world.
Dates: August 3-13, 2021
Time: 9:00am-12:00pm
UM Student Registration
UM students:Please register for this course through Aurora, beginning in March 2021.
Non-UM Student Registration
Fikamusik choral conducting intensive
At the University of Manitoba Desautels Faculty of Music, our approach to professional development for music educators and choral conductors focuses on developing a meaningful sense of community amongst participants, while pursuing advanced choral musicianship.
What is Fikamusik?
Fikamusik refers to a process that draws connections between educators' musical life histories and current professional practice. In addition to a focus on skill development, the course is structured around the collaborative exploration of personal musical narratives at regular coffee sessions, or fika. Conductors are invited to share past musical experiences and come to articulate their assumptions, beliefs, values, and understandings regarding the practice of choral conducting and singing.
 
The goal is to create a challenging learning environment that is anchored in collaboration and interaction, where risk taking is welcomed and relationships amongst educators are strengthened.
Program overview
Fikamusik is a whole-self approach to professional development for music educators and conductors. The program format is highly interactive and elaborates on numerous facets of the choral art from an innovative yet practical perspective. Daily activities include lectures and workshops on topics such as vocal techniques, expressive diction, and principles of tuning.  
Participants will explore choral gesture through anatomical awareness and embodied score preparation, and be introduced to creative rehearsal techniques that develop a unique sense of community among singers. They will have the opportunity to sing, conduct their colleagues, and receive feedback from faculty as they experience, experiment, and apply ideas from sessions.
There is no drop-in available for this program. Participants are expected to commit to the full week intensive.
The Fikamusik program is not offered in 2022.
2022 program registration
Please check back soon for 2022 program information.
Fikamusik: Advanced choral conducting intensive
This course is offered for credit at the post-baccalaureate and graduate level in both the Education and Music faculties. 
MUSC 7860
EDUB 5220
EDUB 7142
Kodály teacher education
Experience the Kodály approach first-hand while studying musicianship, pedagogy, musical materials, conducting and choral singing, all with an emphasis on the Canadian context.
What is Kodály teacher education?
Zoltán Kodály was a Hungarian composer and music educator who revolutionized music education in the 20th century. Kodály believed that "music belongs to everyone" and worked tirelessly to develop an approach where every person could become a functional musician, appropriate to their age and context.
Kodály-inspired music education is well known globally for its systematic approach to musicianship, beginning with hands-on activities and children's folk materials and progressing through to advanced harmonic and historical concepts and musicianship.
Participants may complete the course for certification with the Kodály Society of Canada and/or receive university credit.
The Kodály program will not be offered in 2021.
2022 program registration
Please check back soon for 2022 program information.
Kodály Level 1 scholarship
In 2020, the Kodály Society of Canada will provide one $200 scholarship for students enrolled in Kodály Level 1 at each of McGill University, University of Alberta, University of Manitoba, and Western University, for a total of $800.
Orff Teacher Certification Program
Carl Orff and Gunild Keetman have inspired a global movement in music education. Their approach encourages musical creativity based upon solid pedagogical principles and is structured on a sequential development of knowledge and skills.
What is the Orff Teacher Certification Program?
It is a child-centered philosophy of teaching music to children through doing, playing, exploring, improvising and creating. It combines elements of speech, rhythm, movement, song and dance to teach musical elements and provide children with tools to improvise and create. Teaching with the Orff approach provides opportunities for differentiated instruction, joyful music-making and creating a place for every child to grow as a musician and a person. 
The Orff approach is a process that relies on imaginative teachers who are confident and creative musicians! The three-level Orff Certification Program at the University of Manitoba offers an intensive course of instruction in Orff philosophy, pedagogy, orchestration and improvisation. As well as daily instruction in Basic Orff, particular attention is given to in-depth study of choral techniques, movement and recorder.
Orff's philosophy and process is effective for elementary music educators and in the instruction for band and choral programs and private teaching studios. 
Program overview
Each of the program's three levels consists of three hours of Basic Orff and an hour each of movement, recorder, choral techniques, and study-ensemble, daily. Students from all levels come together in the morning for a half-hour interest session to introduce students to different types of musical genres and techniques such as Caribbean drumming, pop music in Orff or early childhood music education.  
The 2021 Orff Teacher Certification program will not be offered in 2021.
Level I
Level I lays a foundation in Orff pedagogy, rhythmic and melodic training.  The focus is on pentatonic materials, simple bordun, basic movement instruction, choral development at the primary level, and the introduction of the soprano recorder. Level I includes a half-hour of aural skills each day.
Enrollment is limited to 30 students.
Benefits of Level I: 
Learn to teach music concepts using speech, body percussion, movement, and song 
Learn the role of the instruments; how to integrate recorder and pitched and non-pitched percussion in the process 
Learn how to create, teach, and evaluate orchestrations to be used in music programs 
Level I prerequisites
A firm and recent knowledge of music rudiments at least equivalent to Theory 4 (Conservatory Canada) or Grade 5 Theory/Basic Rudiments (RCM). 
Practical experience on an instrument is very important.
2021 program registration
Please check back soon for 2021 program information.
Level II
Level II includes a review of Level I skills and involves further exploration of Orff theory and pedagogy. Materials and activities are designed to further the musical growth of the participants and to encourage study of lesson planning and curriculum for the elementary years.  Recorder classes include the study of both the soprano and alto recorders.
Enrollment is limited to 16 students.
Benefits of Level II:
Build upon the understanding of the Orff media (speech, body percussion, movement, song, and improvisation) and use the media in an active and integrated way 
Explore the historical context of Orff Schulwerk; Who, What, Where, When, and Why? 
Develop alto recorder technique and discover the role of the alto recorder in the process 
Learn how to orchestrate melodies with I-V, I-IV, and I-IV-V harmonic accompaniment 
Level II prerequisites
Grade of C+ or better in Level I (U of M) plus consent of the instructors.
2021 program registration
Please check back soon for 2021 program information.
Orff de Base 2 en français
Les personnes qui s'incrivent à la formation intensive Orff de niveau 2 pourront choisir de faire la composante Orff de Base en français ou en anglais. Chantal Dubois d'Orff Québec assurera la formation en français si le nombre d'inscriptions est suffisant.
Si vous avez déjà fait Orff niveau 2, on vous invite à venir à la composante Orff de Base en français pour un frais réduit (chaque matin pendant le cours). Contactez Jody Stark pour plus d'informations.
Level III
Offered in 2021
Level III continues instruction in the theory, philosophy, and pedagogy related to Orff process. Students are expected to create, orchestrate and perform at a high level and to reach a high standard of competence in the art of teaching especially at the middle school level.
 
Course work features mixed meters, and an exploration of medieval modes and their place in music history and in the Schulwerk. Competence in composing and arranging in the Elemental style and familiarity with materials from the Schulwerk, and Medieval, Renaissance, and Contemporary sources is developed along with recorder work using the full complement of recorders. Fluency on alto and soprano recorder is expected prior to the start of the course.
Enrollment is limited to 12 students.
Benefits of Level III:
Develop mastery of integrating all of the Orff media and teaching strategies of the Orff approach. 
Perform, compose and orchestrate modal music 
Create and teach complex orchestrations 
Fine tune recorder skills and development and experience of the recorder consort (SATB).
Level III prerequisites
Grade of B or better in Level II plus consent of the instructors.
2021 program registration
Please check back soon for 2021 program information.
You may also be looking for