Student experience
In the Price Faculty of Engineering, you have access to resources and opportunities from academic counselling and awards to student groups, co-ops and exchange programs. Learn what the faculty has to offer and discover ways to connect with your fellow students.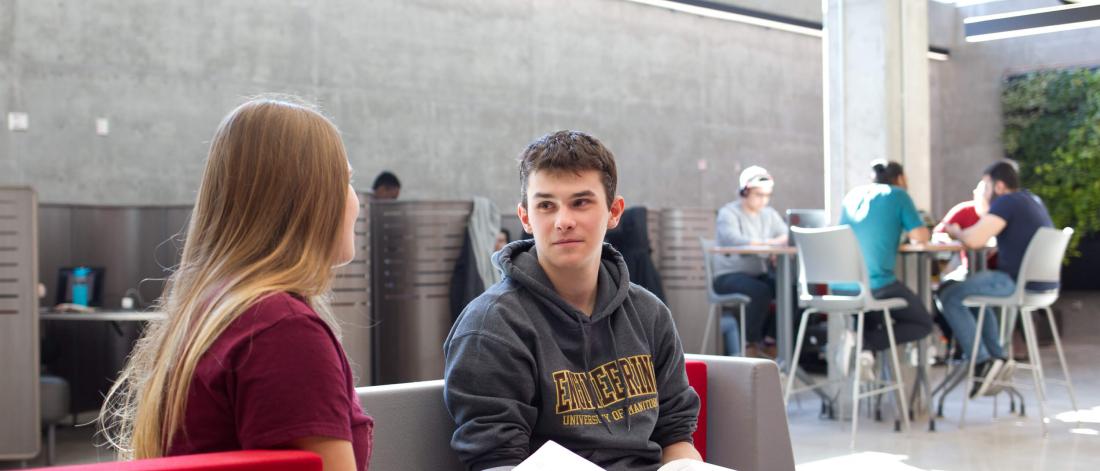 Student supports and resources
Engineering is a challenging field, so we're sure to provide you with the supports you need to thrive during your time at UM.
Online academic counselling
For many, the COVID-19 pandemic has been difficult both mentally and physically. We realize that you have been forced to make changes to the way you learn and study. The lack of connection with your student advisors can add to this stress.
Our new online drop-in student academic counselling offers one-on-one online video consultations with an advisor. Once signed in, you will be immediately invited into the virtual meeting, or placed in a virtual waiting room until the advisor becomes available.
We are here to help you with questions related to policies, academic advice, referrals, appeals, accessibility services, student advocacy, mental health support, grading options, future course registrations and much more. This service is available to all domestic, exchange, and International students. We encourage you to use these services.
You may also email your question(s) to JP Burak and a one-on-one online video meeting can be arranged if the drop-in times listed here do not work for you.
Upcoming online academic counselling sessions
Check back soon for upcoming online academic counselling sessions
Engineering student policies
Engineering appeals
If you wish to appeal decisions resulting from the academic regulations of the Price Faculty of Engineering, you must submit a written appeal to the Engineering Committee on Standing and Appeals.
Appeals Process
Step 1: Schedule a meeting with Judy Schroen-Galinaitis in the Engineering Student Services office (204-474-9808) to discuss your desire to submit an appeal as well as the procedure to follow to complete that submission.
Step 2: Contact the Student Advocacy office (204-474-7423) if you wish to connect with a student advocate. An advocate can assist you with your appeal to ensure that you are aware of your rights and responsibilities; your advocate will often accompany you to your appeal hearing. Students may also seek assistance from a representative from the University of Manitoba Students' Union.
Step 3: Complete the appeals application form, following the specific completion instructions found on the form. All fields and signatures in this form are required electronically.
The details of your appeal request should indicate the nature of the appeal and the grounds on which it is based. The written request could also indicate the circumstances leading to your academic assessment (e.g., attitude, personal/family problems). Mention should also be made of steps taken (or to be taken) to prevent such circumstances from occurring in the future. Supporting documentation (e.g., medical certificate, etc.) should be scanned and included via email with the completed electronic form. You will be asked to produce the original supporting documentation. A letter of recommendation from a third party (e.g., supervisor, etc.) may also be submitted electronically.
Step 4: Judy Schroen-Galinaitis will contact you to let you know when your scheduled appeal hearing will take place if this is required. It is strongly recommended that you attend this hearing.
Step 5: Following your appeal hearing, you will receive written confirmation of the committee's decision within one week following the meeting. Should you choose to learn the decision prior to receiving this confirmation, you may contact Judy Schroen-Galinaitis on the next business day.
Standing and Appeals meetings for 2021-2022 Academic Year

Date of Meeting: June 23, 2021 
Submission Deadline Date: June 14, 2021

Date of Meeting: August 18, 2021 
Submission Deadline Date: August 9, 2021

Date of Meeting: February 23, 2022 
Submission Deadline Date: February 14, 2022.
Deferred and missed exams
If your deferral request is related to a COVID-19 situation, you must indicate on your application in the "Reason for Deferral" section.
Deferred and missed exam form (PDF)
Students must remain available until all exam and test obligations have been fulfilled. Travel plans are not an acceptable reason to miss examinations.
Given the ongoing COVID-19/Coronavirus situation, deferral applications will only be accepted via email and must be sent to Kendra Heinrichs within 48 hours following the scheduled exam day. To reduce further hardship, deferral requests for courses taken in Summer 2021 are not expected to be supplemented by supporting documentation.
Please allow 48 hours to receive the faculty's decision regarding your deferred exam request. If any term work is outstanding this may delay the 48 hour reply as consultation with instructor will be required to aid in our decision. Please check your university email for the decision on your deferred exam application request. Should you not receive your decision within 48 hours, please follow up with our office.
Deferred exams may be granted to students who are unable to write a final exam at the scheduled date and time for medical or compassionate reasons, if the application for the deferred exam is accompanied by supporting documentation that confirms the student's incapacity to write on the scheduled exam date(s).
Students must apply for a deferred exam within 48 hours of the missed exam. If more than one exam is missed, the deferral application must be submitted within 48 hours of the last exam missed. A deferred exam is not granted until complete documentation is submitted.
Deferrals are not usually granted in advance of exam.
Documentation for the application must satisfy the following criteria:
Be an original; copies of the document will not be accepted. If the original is needed for other purposes, a copy will be made and retained in the Price Faculty of Engineering

Specifies that the exam was missed for the reasons noted

Dates on the documents must cover the date(s) of the missed exams

Official Documentation, for example: medical certificates, police reports, counselling/treatment letter, obituary, death certificate, legal documents, etc.
All documentation is subject to confirmation. Falsification or fabrication of documentation will result in academic suspension for disciplinary reason. Other penalties may also apply.
Students who miss one exam and write another exam on the same day must obtain detailed documentation that explains/confirms inability to write one and not the other.
Deadlines for Requesting a Deferred Final Exam (for medical or compassionate reasons)
| | |
| --- | --- |
| Exam day | Deadline to request deferral |
| Monday | Wednesday |
| Tuesday | Thursday |
| Wednesday | Friday |
| Thursday | Monday (extended from Saturday) |
| Friday | Monday (extended from Sunday) |
| Saturday | Monday |
Re-deferrals
Re-deferrals (deferring a scheduled deferred exam) will only be considered in extremely exceptional circumstances on a case-by-case basis by the Associate Dean (Undergraduate Programs). If approved, the re-deferral will be scheduled for the next regular sitting of the final exam for the course in question (could be up to a year from the date of the original scheduled exam). Please note that a request for re-deferral may result in the student being denied registration in the current or a future term until all outstanding examination obligations have been completed. Requests to write a deferred exam after the originally scheduled deferred exam has already been written will be denied.
Students who have received a failing grade as the result of being denied or missing a deferred exam, feel that the circumstances surrounding the situation warrant special consideration, may submit a letter of appeal to the Price Faculty of Engineering Standing and Appeals Committee.
Final exam access
Eligibility
According to the "Student access to final examinations" policy found in the Academic Calendar, students have the right to read their own final examination script and any comments written on it before the deadline for a formal grade appeal, (in the presence of a staff member).
Notwithstanding the above, there is no obligation upon the faculty, school or academic unit to make machine-scored examination answer sheets available for consultation by students. It is expected that faculties, schools, and academic units will provide appropriate means of feedback to students in such circumstances and, where practicable, will encourage instructors to discuss selected questions and answers.
Process
Each Engineering department will facilitate the final examination review according to the following procedure:
The student should contact the course instructor directly to make arrangements to review the final exam paper at a mutually agreeable time. The instructor is not obliged to discuss the examination, the assignment of grades, or to provide solutions to examination questions. However, in the event that an error is discovered in the summation of examination marks, this discrepancy should be brought to the attention of the instructor for correction.

In the event that the instructor is unavailable or that suitable reviewing arrangements cannot be agreed upon, the student should complete the

Access to Final Exams application form (PDF)

. The form must be completed, printed, signed, and brought in person to the student's

undergraduate student advisor

.

The student will be contacted via email (U of M student email address only) by his or her advisor when a copy of the final examination is available for review. If the student is requesting to view more than one exam, the review of multiple exams may or may not occur on the same day, depending on the timing of the availability of the copy.

The student will have up to 20 minutes to review each exam under supervision ;as arranged by the departmental program office. The course instructor or teaching assistant may or may not be present during the review, and answer keys will not be provided. The student will not be permitted to take any information from the paper by any means. Tampering with the paper or possession of writing materials, recording devices, cell phones or cameras during the review will constitute a breach of the University Student Discipline Bylaw.

Once the review time has elapsed, the student will return the copy of the final examination to the supervisor who will record its receipt before the student exits the room.
Please note:
This procedure refers to the review of final examinations of courses taught by the Price Faculty of Engineering only.

In order to allow time for review prior to each term's grade appeal deadline, students are encouraged to make this request no later than ten days from the release of final grades by the Registrar's Office.

Any concerns relating to the grading process or the marks awarded must be dealt with via a formal 

Appeal of Final Grades

through the Registrar's Office.
You may also be looking for
Get involved
Student life in the Price Faculty of Engineering is much more than classrooms and assignments. Get involved with student groups, hone your skills through a co-op or internships or travel the world through our student exchange program.
Contact us
Price Faculty of Engineering
E2-290 Engineering and Information Technology Complex
15 Gillson Street
University of Manitoba (Fort Garry campus)
Winnipeg MB, R3T 5V6