Co-operative Education Program
The Co-operative Education (Co-op) Program aims to connect student classroom learning with valuable work experience, preparing students for a successful career ahead of them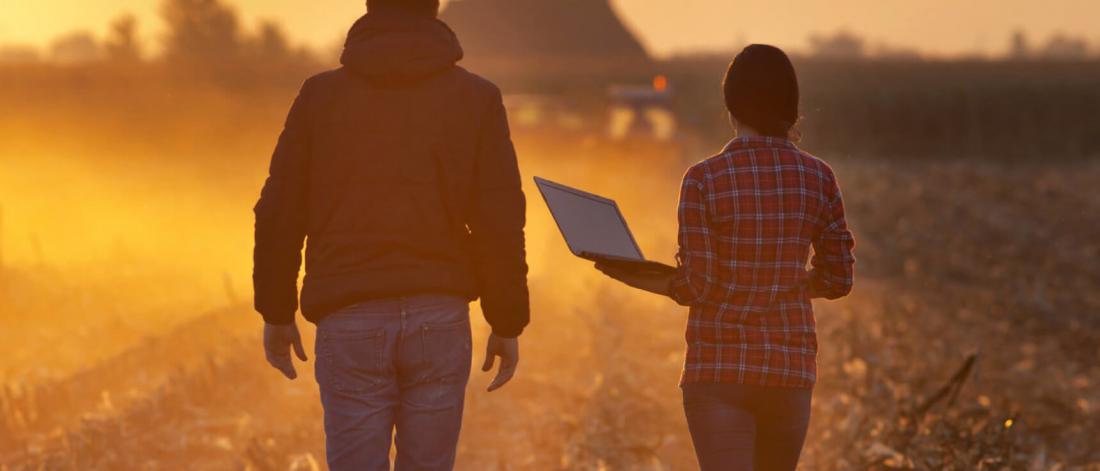 Co-op Program
Build and develop workplace skills while you obtain your degree!
What is a co-op placement?
A co-op placement is a partnership between a student, an employer and the educational institution. The success of the Co-op partnership is dependent upon a mutual commitment from all parties. It is a paid work experience that can earn a student 3 credit hours for completing at least 420 hours with a participating employer – these hours must be completed within the 4-month academic term.
Placements can be within academia, the non-profit sector, the agriculture or agri-food industry or the government, but the employer needs to be made aware that it is a co-op placement as early as possible.
The Faculty's Cooperative Education coordinator acts as a liaison between the student, the employer and any involved academic staff. He/she promotes employer listings to students, monitors students' commitment to their placements and conducts the evaluations.
Apply to the Co-op Program
Joining the Co-op Program is a commitment. Here's what you will need to get started.
Eligibility Requirements
Students who have applied into the program must participate in a co-op onboarding program (i.e. attend orientation sessions and workshops) even if a co-op work term has not yet been secured.
Degree Program Students
Students who have been admitted to an undergraduate program within the faculty are eligible to apply to the Co-operative Education Program.
The first work term can start after the first year of a 4-year or second-degree program. Students admitted into the Program must maintain good academic standing (minimum DGPA of 2.0) throughout their co-op work terms.
Each co-op term that receives a Pass mark earns a student 3 credit hours. During a work term, a co-op student may take an additional maximum of 6 credit hours.
Diploma in Agriculture Students
To be considered for admission in the Cooperative Education Program, a first year diploma student must have a minimum Degree GPA of 2.5, and have completed at least 47 Credit Hours of studies by the end of the academic year of application.
Students are advised that satisfying the entrance requirements does not guarantee a place in the Cooperative Education Program. Acceptance into the program is dependant upon the student receiving a job placement through the Cooperative Education Office.
Employment Term Requirements: The Cooperative Education Program is a five month program between the first and second year with a faculty-approved employer. The student will receive three credits for completing the Cooperative Education Program. Students are required to register in the employment term course and pay the fee prior to starting the employment term.
International Students
You will need to meet with someone at the International Centre first to discuss your work permit for the co-op placement before you contact our Co-op Coordinator. Please note that our Coordinator cannot provide advice on work or study permits.
Benefits & Costs
The Co-op Program provides students with supports and opportunities to:
Exclusive career development and employment support designed to help students gain confidence in their abilities and seek support in areas of improvement.
Gain and develop crucial technical and employability skills
Earn money to supplement education costs. Co-op student receive competitive wages.
Build a strong resume, cover letter, and portfolio. Each work term allows students to participate in experiential learning opportunities designed to prepare you for the future. 
Each work term allows Co-op students to explore different career options and task varieties that can help define long-term career and employment goals. 
Develop and maintain important industry contacts.
Earn three (3) credit hours per Co-op Work Term. Three successful work terms can help you balance academic and professional goals. 
Access student awards such as the UM Co-op Students of the Year and the CEWIL Canada Student of the Year award.
Gain Co-op designations on transcripts and parchments that are an advantage when seeking permanent employment.
Gain recognition that allows employers to access hiring incentives for student work terms which helps develop long-term employment opportunities.
Costs & Associated Fees
| 2020-2021 |   |
| --- | --- |
| Agriculture Diploma | $ 796.70 |
| Agricultural & Food Sciences | $ 796.70 |
Expectations of Co-op Students
Participating in the Co-op Program is a decision to enhance the overall student experience. Applicants who get accepted to the program agree to follow set rules and guidelines that are designed to help them become successful before and after graduation.
As a Co-op student, you automatically become a representative of the Faculty of Agricultural and Food Sciences. It is important for us to work together to make this a meaningful experience and preserve valued relationships between students, coop coordinator(s), and industry partners. 
The following is a non-exhaustive list of expectations that Co-op students must adhere to:
Inform the Co-op Coordinator of any changes to your degree, program or contact information.
Follow the steps and guidelines outlined in the application and student onboarding process.
Conduct a thorough job search for potential co-op work term placements that suit your interests, academic goals and personal life adaptability (i.e. capacity to live short-term in rural Manitoba).
Ensure your resume and cover letters are complete in all areas and professional in appearance. 
Apply for an appropriate number of jobs across a range of sectors of the agri-food industry.
International students: Meet with the International Centre at U of M about work permits prior to applying to the Co-op Program and securing work placements.
Attend and participate in professional development opportunities to enhance the Co-op experience.
Pre-Placement (1-4 months prior to start of placement):
Connect with the Co-op Coordinator with any potential employer who requests more information on co-op.
Attend all orientations and meetings that inform and prepare students for starting co-op placements.
Register for the appropriate Co-op Work Term about 1 month prior to starting your placement.
Pay associated course fees for Work Term (students earn 3 credit hours for each Term/placement.
Review your email frequently for information from Co-op Coordinator and/or Co-op Instructor.
On the co-op placement job site:
Work to your full capacity during work terms and participate in workplace events and meetings.
Follow all policies and procedures provided by the employer.
Represent the Faculty of Agricultural and Food Sciences in a professional and ethical manner.
Complete and submit Co-op Course deliverables, including Self-Evaluation forms, online reflection pieces and final reports, in a timely manner.
Before You Apply
Information Session
Students who are interested to apply to the Co-op Program are encouraged to register and attend an information session prior to submitting an application.
The information session will include the following topics:
Benefits of the Co-op Program
Student responsibilities and expectations
Student intake application process
Onboarding and pre-placement program
and much more!
Upcoming Sessions
To view/register for available sessions, visit the Events Calendar in the "Agriculture Career & Co-op" module in careerCONNECT. Unable to register/join a session? Contact us for more information and/or additional support!
Career and Academic Planning
Applying to and participating in the Co-op Program is a commitment to enhance the overall your student experience and overall development. From job search to developing tailored applications to building a professional network, you will be exposed to opportunities and situations that will require you to make decisions that impact other areas of your life.
Students who are interested in applying to the program are encouraged to meet with a career consultant and an academic advisor to discuss how the Co-op Program can affect, change, and contribute to career and academic plans/goals.
Important note about the online application form: There is currently no way to 'save' an incomplete application once it has started. It is recommended that you complete the Career and Academic Planning Worksheet to ensure that you have all of the information you need to submit an application.
What You Need To Apply
Get the following ready before you start your application:
Student number 
Credit hours completed & Degree GPA (i.e. UMAchieve, unofficial web transcript through Aurora, etc.)
Ready To Apply?
After you've completed the pre-application process, follow the steps below to apply to the Co-op Program.
Step 1. Log-in to your student account in careerCONNECT
All Co-op Job Postings and Events will only be accessible through the Agriculture Co-op module in careerCONNECT. Students with an active UM student email (UMnetID@myumanitoba.ca) can log-in to the portal using single sign-on. 
What is single sign-on? This is a feature made possible by integration that allows students to log-in to the system using a single set of log-in credentials (e.g. webmail)
Step 2. Confirm access to the Agriculture Career & Co-op module
Accounts need special permission to view the Faculty's module within the careerCONNECT portal. Once you log-in, confirm that you are able to view/access the "Agriculture Career & Co-op" module found on the left navigation menu. 
If you are having trouble viewing/accessing this module, contact the Co-operative Education Coordinator for additional assistance.
Step 3. Complete a Co-op Program Application Form
After gaining access to the Agriculture Career & Co-op module in careerCONNECT, click on "Agriculture Co-op" and complete a formal application form for the work term you wish to join.
For example: If you wish to have your first work placement in Winter 2021, submit an application for the Winter 2021 Placement Intake. 
You may want to refer to your completed Career and Academic Planning Worksheet to help you complete the application. In addition, you must also provide additional information listed and referred to in the "What You Need to Apply" section.
Step 4. Complete the Student Onboarding Program
Student applicants are required to complete the student onboarding program prior to the start of their work term placements. This program aims to prepare Co-op students for the world of work by equipping them with the necessary skills and knowledge to be successful in applying for and securing co-op placements.
Student Onboarding Program Checklist
Program intake interview: Book an appointment with the Cooperative Education Coordinator to review your application. This will be an opportunity to discuss your co-op plans and expectations, and address any questions you may have. 
Research and identify potential Co-op opportunities: Getting to know the industry is important in identifying opportunities to build on your career and employment goals. This could mean registering/attending a Job Search workshop.
Resume & Cover Letter workshop: Strong applications that are tailored to individual job postings are highly valued by potential employers. Attend a session to learn more about how to develop your skills in this area.
Interview Preparation workshop: Submitting a tailored application is just the beginning - you must learn how to sell your skills and experience in an interview. Attend a session to learn more about how to prepare for a placement interview.
Book a Mock Interview: Test your skills and interview readiness by booking an appointment with the Cooperative Education Coordinator for a mock interview. This is available on a limited basis.
Student Onboarding Schedule (Fall/Winter Intakes)
Co-op Program Welcome Orientation: May 18, 1-2PM
Intake Interviews: May 24 - June 4 (various dates/times)
You can choose between joining one (1) of the following groups:
| Event/Workshop | Group A (Tuesdays, 2-4 PM) | Group B (Thursdays, 9-11 AM) |
| --- | --- | --- |
| Job Search Workshop | June 8 | June 10 |
| Resume & Cover Letter Workshop | June 15 | June 17 |
| Interview Workshop | June 22 | June 24 |
To register for these events and workshops, you must log-in to careerCONNECT and access the Faculty's Events & Workshops calendar within the "Agriculture Career & Co-op" module. Alternatively, students can also attend sessions offered by Career Services.
Step 5. Submit Applications for Co-op Jobs
At this point, you are now equipped and ready to submit applications for Co-op jobs. You are encouraged to consider applying for more than one (1) Co-op position  to increase your chances of securing a work placement in a timely manner. 
Students are expected to consider different opportunities and postings in order to secure a work placement. This may include applying for jobs that are posted in the general job board and may be open for Co-op and non-Co-op applications.
All applications will require you to submit a tailored resume and cover letter. Use the skills and knowledge you've gained to create strong applications.
Students can also turn a non-co-op position (max. 4 month term) into a co-op placement if the employer (including the supervisor) commits to participating in the required activities of the program, including the employer onboarding process and student evaluations.
Students should consult with the Co-op Coordinator prior to talking with an employer about a co-op placement if they are unsure about whether or not the employer will be open to participating in the co-op program requirements.
Step 6. Schedule a job interview
Successful candidates will be contacted by employers to schedule job interviews. If you are planning to follow-up with an employer to confirm interview appointments, students are encouraged to be detailed and thorough in your communication to ensure accurate information prior to the interview. 
Note: It is recommended that you practice and thoroughly prepare for your interview. Appointments for one-on-one Mock Interviews are limited to students who have secured an interview date and time. Ensure that you give yourself some time to prepare for an interview.
If you are unsure on how to contact employers, contact the Cooperative Education Coordinator for more information and additional support. 
Step 7. Register for a Co-op Course
Students who have secured a co-op placement must register online for the co-op course in order to obtain the credit. This can be done up to 2 weeks before the start of the co-op placement/work term. For example, if you are scheduled to start working in May, you have to register for a Co-op course by mid-April.
Special permission to register for these courses is required. As a part of these courses, all registered students must participate in a mandatory orientation session that introduces the course instructor and participants.
The co-op courses are offered online on UM Learn and are graded on a Pass/Fail basis.
Co-op Courses (in progression) are as follows:
AGRI 2002 – First Co-op Placement: Introduction to HR and Career Competencies
AGRI 3002 – Second Co-op Placement: Values-Based Leadership Development
AGRI 4002 – Third Co-op Placement: Special Project
Students will earn their co-op designation (indication on their parchment at graduation) with the completion of at least two co-op placements. Full credit hours are required for completion.
Step 8. Pay associated Co-op Fees
Students with secured work placements and co-op course registrations are required to pay associated course fees for each Co-op Work Term. 
You must complete this step prior to the start of your placement. Failure to pay the associated fees may result in a Hold Status on your student account that will prevent you from earning the credit hours associated with the co-op course for that term.
Contact Us
Co-operative Education Program
Faculty of Agricultural and Food Sciences
160-66 Dafoe Road
University of Manitoba
Winnipeg, MB R3T 2N2 Canada